Please excuse my website, it is very outdated. I am working on getting it more recent. Please visit out Mountainview Mastiffs of CT on Facebook for more current information. If you are intersted in a puppy please fill out the application. Thank you.
We Have discovered something BIND BLOWING!! This is clinically proven to EXTEND life in Mammels, Humans and Animals. I have seen noticable differances in my family and my dogs! I NEED to share this with you!!
For more information contact me! We all want or dogs to look and feeel great especially as they are aging.

Welcome to Mountainview Mastiffs of Lisbon, CT
Come on in and sit down and take a look around at our wonderful family of mastiffs.
Dave and I are always happy to talk mastiffs so give us a call ..



We would like to thank Donna of Bearcreek Mastiffs for this beautiful collage of photos that were taken by her on our wedding day, she compiled them all and made us this lovely collage of photos. Peanut, Cooper,Hayley,Paris Jazzy,Dyna,Meadow and the group
Hello my name is Joanne Viera,I know many remember me as Burnett but on
June 22 2008
I married the love of my life Dave Viera.Dave and I would like to welcome you to our family of Mastiffs, here is a little about me and how I got involved with mastiffs. I couldn't imagine life without them.
My love for dogs started when I was just a young girl growing up on Long Island, I always had to have dogs around me.I was always reading about dogs and researching all kinds of breeds and animal behavior.I was always facinated by the giant breeds and always would imagine or dream about raising dogs. My love for Mastiffs started in 1989 when I adopted my first mastiff,her name was Dakota,she was the love of my life she is dearly missed every day. Dakota was with us for 9 beautiful years, we lost her from complications resulting from the use of Rimadyl.
When we lost Dakota , we were devestated and we needed to get another mastiff not to replace her, to help comfort us.
We then decided now that we moved to the Hudson Valley from Long Island,we had the room so why not make my dream of getting involved in the sport of purebred dogs come true.
Now many years later, lots of reading, learning and loving my dogs, I am proud to say I have bred some really nice puppies for companion pet and for show. I feel I have made alot of families happy. I have a very nice family here and a wonderful extended family of mastiffs. I have made some really wonderful friends through the years, thanks to these wonderful dogs.Please go to the photo page to see some of our dogs with their families.
When I do breed my dogs, I am very selective to whom I breed to and who I decide is going to own one of these beautiful Mountainview puppies.All dogs are from Champion bloodlines and are geneticly tested for specific problems found in this breed. Documentation is available upon request.
The breeding process is quite extensive. We are striving for Health, temperment, type, size, conformation.. They need to be able to move...The entire package.
All my breedings have been with tested parents.They
MUST
PASS
all their testing before they are considered into my breeding program.

Mountainview Mastiffs breed Companion Pet and Show quality dogs, all dogs come with a full health guarantee.

We have worked very hard to get a great reputation in this breed.

we do not sell to brokers, petstores ,puppymills

The mastiff is not for everyone, please do your homework and buy from a responsible breeder
Dakota
This is Dakota, she was our first mastiff. We took her from a family that was having a baby and could not keep her, she became our first baby.Dakota was not a show dog she was a pet but she was the biggest champion in our eyes.
God Bless you Dakota we will always love you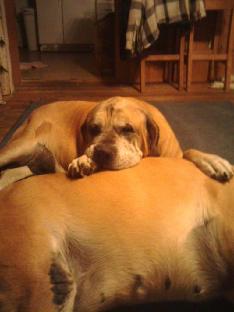 Montana laying on her daughter Harley
Contact:
Joanne Viera


Lisbon,CT 06351
Phone 860-377-3648
E Mail
Website powered by Network Solutions®